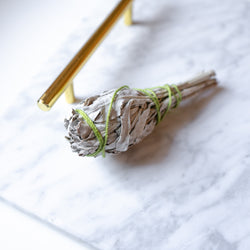 White Sage Bundle
Purify your space with our white sage bundle. Being surrounded by negativity can have a serious impact on your health.
Smoke cleansing can help fight negativity, clear the energy around you, and help you start anew. The burning of plants, such as sage, can cleanse your space, your crystals, your body and your mind.
Our white sage bundles measure 4 to 5 inches, are from California, and are wrapped with a 100% cotton string.
Do not leave burning sage unattended. Use caution when handling burning sage to avoid injury.
$5 flat rate shipping within Canada on orders over $25 before taxes.
Click here
for international shipping and to see exceptions. Orders take 2-5 days to ship out.