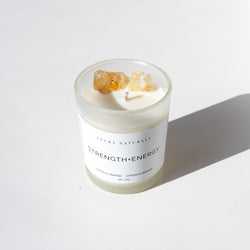 STRENGTH + ENERGY | CITRINE, LEMON & ORANGE CANDLE 6 OZ
Energize yourself and get back on the grind with our 6oz STRENGTH + ENERGY Citrine infused candle. Made with our custom energizing blend of lemon and orange: a true aromatherapy experience that will make you feel inspired, energized, and happy.
Our candles are hand-poured in small batches to ensure the highest quality and feature:
· All-natural Soy Wax
· Recyclable + reusable jars and packaging
· In-house blend of 100% high-quality essential oils, phthalate-free + paraben-free fragrance
· Cruelty-free, 100% vegan and non-toxic
· 35-hour burn time
· Hand-made in Montreal, Canada
How to use:
· Store product in a cool dry place
· Burn for 2-3 hours minimum at a time
· Remove crystals from the wax before burning
· Let candle wax melt to the edge of the glass before extinguishing.

Trim your wicks before each use to 1/8 inch

$5 flat rate shipping within Canada on orders over $25 before taxes.
Click here
for international shipping and to see exceptions. Orders take 2-5 days to ship out.