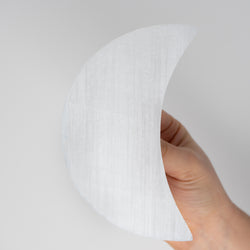 Selenite Moon
Polished and shaped selenite moon from Morocco. These resplendent moons are shaped perfectly to show off selenite's natural shine. 
Selenite is a crystalline variety of gypsum that gets its name from the Greek word selēnitēs, meaning stone of the moon.
Our items are natural, the piece you receive may vary slightly in shape, color, and size from our product pictures.
Keep your selenite dry, prolonged exposure to water can cause it to dissolve. The best way to clean your selenite off is with compressed air and a soft brush.
$5 flat rate shipping within Canada on orders over $25 before taxes.
Click here
for international shipping and to see exceptions. Orders take 2-5 days to ship out.