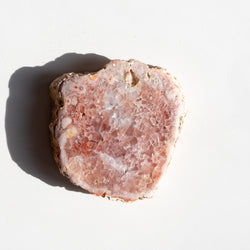 Pink Amethyst Slab
Natural pink amethyst slab from Argentina. These high-quality slabs are much darker than typical pink amethyst because they are cut from the geodes found in Patagonia, Argentina.
This pink amethyst slab measures 9.0cm across.
This item belongs to our 1 of 1 collection, meaning that you will receive the exact piece you see in the pictures.

$5 flat rate shipping within Canada on orders over $25 before taxes.
Click here
for international shipping and to see exceptions. Orders take 2-5 days to ship out.