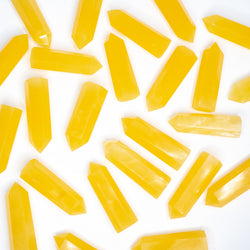 Orange Calcite Tower
Orange calcite towers from Mexico.
These towers measure 8-10cm.
Our items are natural, the piece you receive may vary slightly in shape, color and size from our pictures.
Please note that these towers often times have white lines included on them, and may not all be a solid orange color.
$5 flat rate shipping within Canada on orders over $25 before taxes.
Click here
for international shipping and to see exceptions. Orders take 2-5 days to ship out.