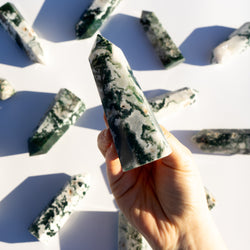 Moss Agate Tower
Polished moss agate towers. With swirls of green and milky white colors, these towers have become a favorite for many. 
Despite its name, moss agate doesn't contain any organic matter. The green color is actually formed by metal impurities found within the stone.
Our items are natural, the piece you receive may vary slightly in shape, color, and size from our product pictures.
$5 flat rate shipping within Canada on orders over $25 before taxes.
Click here
for international shipping and to see exceptions. Orders take 2-5 days to ship out.