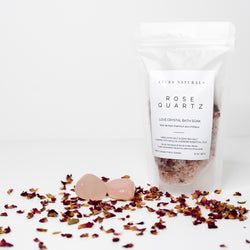 Love Crystal Bath Soak | Rose Quartz
Meet your favorite new ritual.
A loving bath soak featuring rose quartz tumbled stones, Himalayan Salt, Dead Sea salt and jasmine, patchouli and lavender essential oils.
Hand-made in Canada. Vegan. Cruelty-free.

Directions: Place 6-8 tablespoons to a full tub of warm water. Immerse yourself and let your body and soul feel the benefits. Experience the ultimate bath with the gentle aromas of the jasmine, patchouli and lavender essential oils combined with Himalayan and Dead Sea salt.
Ingredients: Sodium Chloride (Himalayan & Dead Sea Salt), Magnesium Sulfate, Hibiscus Flowers, Rose Petals, Blend of Essential Oils. May contain peanuts.
12oz | 350g
$5 flat rate shipping within Canada on orders over $25 before taxes.
Click here
for international shipping and to see exceptions. Orders take 2-5 days to ship out.