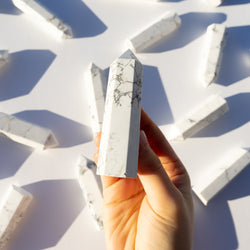 Howlite Tower
Polished howlite towers from China. These howlite towers have a very modern look, making them an ideal addition to the decor of your space.
Howlite was discovered recently, in 1968, in Nova Scotia. First considered a nuisance in mines, the mineral has now become very popular as a stone for carvings and jewelry.
Our items are natural, the piece you receive may vary slightly in shape, color, and size from our product pictures.
$5 flat rate shipping within Canada on orders over $25 before taxes.
Click here
for international shipping and to see exceptions. Orders take 2-5 days to ship out.