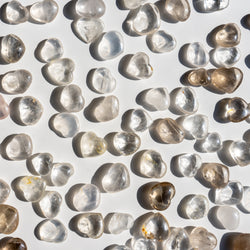 Mini Clear Quartz Heart
Clear quartz hearts from Madagascar. Incredible clarity make these stones the perfect complementary piece, while heart shapes make a great gift to a loved one (or to yourself)!
Our clear quartz hearts measure 25-35mm across.
Quartz is made of silicon dioxide in igneous rocks, which crystallizes as it cools (much like water turning into ice as its temperature drops). It can also form in silica-rich water that was once high temperatures and pressure but then cooled. Read more about quartz.

Our items are natural, the piece you receive may vary slightly in shape, color, and size from our product pictures.
You can use warm water, soap, and a soft toothbrush to clean dirt or dust off your crystals. Brush gently to avoid scratches.
$5 flat rate shipping within Canada on orders over $25 before taxes.
Click here
for international shipping and to see exceptions. Orders take 2-5 days to ship out.