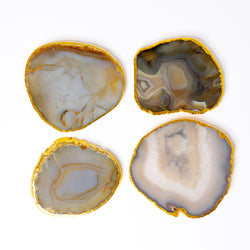 Agate Coaster Set
Agate coaster set with gold-painted trim.
The largest coaster in this set measures 11.6cm across.
This set belongs to our 1 of 1 collection. You will receive the set of items shown in the product picture.
$5 flat rate shipping within Canada on orders over $25 before taxes.
Click here
for international shipping and to see exceptions. Orders take 2-5 days to ship out.