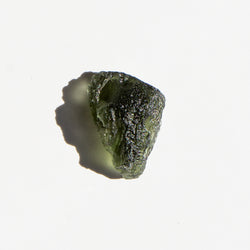 Moldavite
Magnificent moldavite shard from Czech Republic. These glass-like specimens are held in high-regard for their rarity, beauty and how they were created.
This moldavite piece weighs 3.3 grams.
Please note that moldavite specimens are small, with our pieces ranging from approximately 1.4cm to 2.5cm.
Moldavite is found in Europe and is a natural glass that was formed approximately 15 million years ago due to the heat of an asteroid impact. When the asteroid chunks hit the Earth, they melted and splattered rocks which solidified into moldavite in the air and fell to the ground. 
This specimen belongs to our 1 of 1 collection, meaning that you will receive the exact item you see in the pictures.
$5 flat rate shipping within Canada on orders over $25 before taxes.
Click here
for international shipping and to see exceptions. Orders take 2-5 days to ship out.